Last Hurrah of Summer Peach Crumble (vegan, gluten-free)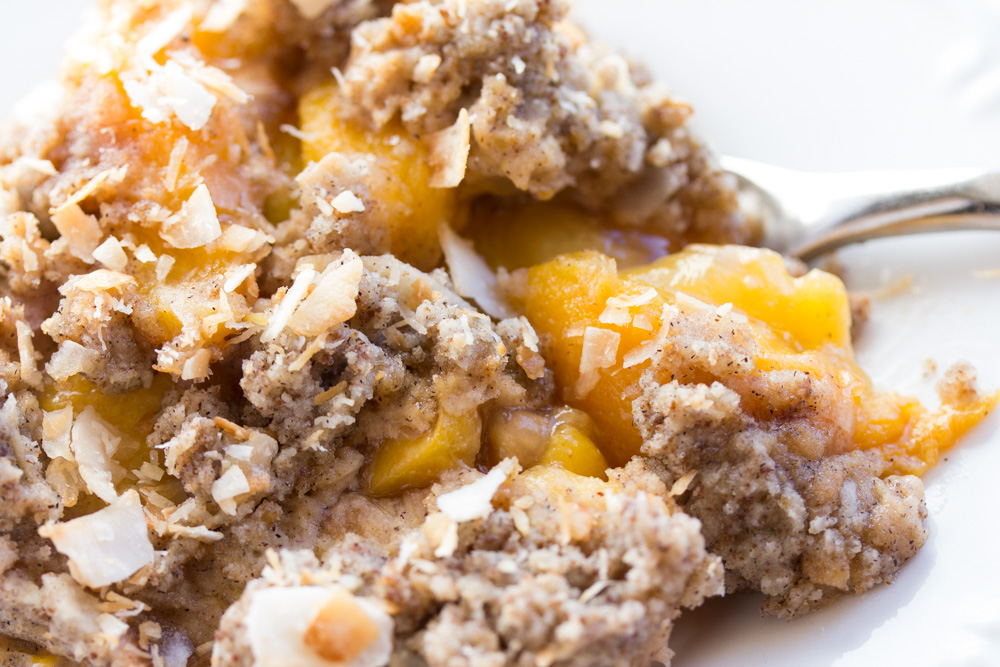 3 pounds ripe peaches
½ cup granulated cane sugar (more or less to taste)
2 tablespoons lemon juice from 1 lemon (more or less to taste)
A couple pinches ground cinnamon
2 ½ tablespoons arrowroot starch, or ¼ cup white rice flour for thickening
1 ½ cups brown rice flour
1 ½ cups white rice flour
½ cup buckwheat flour
¾ cups coconut flakes, chopped fine to imitate the texture of oats, plus extra to garnish if desired
¼ teaspoon fine grain salt
½ cup brown sugar
1 cup unrefined coconut oil
Bring a large pot of water to a boil. Fill a large bowl with ice water. To blanch the peaches, put them into the boiling water for about a minute, then remove to the bowl of ice water. Peel off the skin (if the skin doesn't easily peel off, put them in the boiling water for 30 seconds longer. If your peaches are not completely ripe, the skin may not all come off--that's okay.
Cut the peaches in half, remove the pits, and cut into ½ inch slices. Put the peaches into the dish you plan to bake the crisp in ( I used an 8x13 deep baking dish). Stir in the cane sugar and lemon juice, tasting as you go to get a balance of sweetness and brightness. If your peaches are under-ripe, you will want to use more lemon juice and sugar. Stir in a couple pinches of cinnamon, and either the arrowroot starch or rice flour.
In a large bowl, combine the rice flour, buckwheat flour, chopped coconut, salt, brown sugar and coconut oil. Use clean hands to mix and squeeze the mixture together, until it clumps together. Add 1-2 tablespoons additional coconut oil if it seems like it's not clumping enough. Taste, and add more sugar or salt to taste.
Spread the crumble topping over the peach mixture in a baking dish. Bake at 375˚ F for 35-45 minutes, or until the peaches are bubbly and the topping starts to look golden brown. Allow to cool at least 20 minutes before serving. If desired, toast ¼ cup coconut flakes in a frying pan over medium heat until golden and sprinkle over the top of the crumble.
Recipe by
Spoon With Me
at https://spoonwithme.com/last-hurrah-of-summer-peach-crumble-vegan-gluten-free/