Mega Veggie Pasta Sauce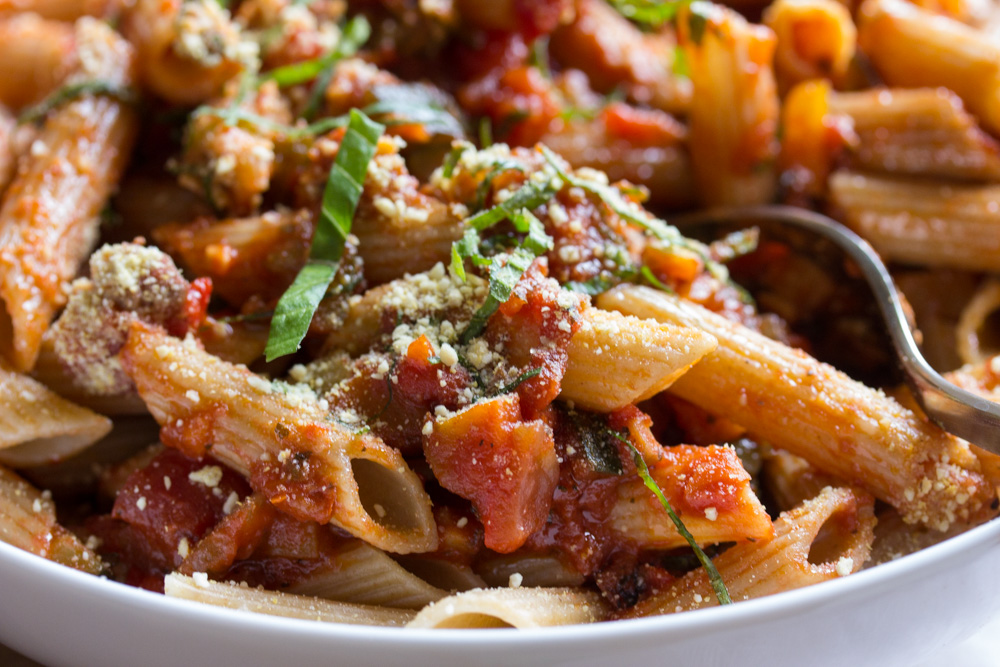 Recipe type:
Sauce, main dish
4 ounces cremini mushrooms, diced
1 medium onion, chopped
1 small red bell pepper, chopped
1 small green bell pepper, chopped
1 rib celery, diced
1 medium carrot, peeled and diced
1 medium zucchini, diced
6 large cloves garlic, minced
4 tablespoons olive oil, divided
3 28-ounce cans crushed tomatoes (2 regular and one fire-roasted if desired)
½ cup vegetable broth
1 tablespoon Italian herb mix
1 tablespoon dried oregano
1 tablespoon kosher salt, to taste
½ to 1 teaspoon-crushed red pepper, to taste
pasta of your choice, gluten-free if desired
fresh basil leaves, rolled and cut into narrow strips
vegan parmesan cheese for serving, optional (here is a great easy recipe)
Heat 2 tablespoons oil in a large saucepan over medium-high heat. Add the mushrooms and a couple pinches salt and sauté until browned and tender. Remove the mushrooms to a plate and set aside.
Heat the remaining 2 tablespoons olive oil. Add the onion, red and green bell pepper, celery, carrot and zucchini and a couple generous pinches of salt and sauté for 4-6 minutes, or until onion is translucent and other vegetables are crisp tender. Add the mushrooms back in, and stir in the crushed tomatoes, vegetable broth, Italian herbs, oregano, salt and crushed red pepper to taste. Bring to a boil and immediately reduce heat to medium low. Cover and simmer for about an hour, or until flavors are melded and vegetables are softened. Season to taste with more salt if needed.
If serving with pasta, cook according to package directions during the last 20 minutes of sauce cooking time. Spoon the sauce over the pasta and garnish with the basil and parmesan if using.