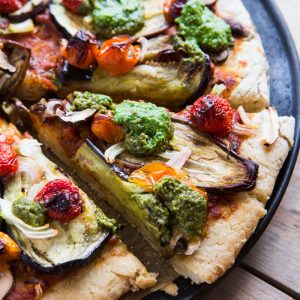 4 tablespoons extra virgin olive oil, divided
1 pint (about 10 ounces cherry tomatoes)
1 lb eggplant, sliced ¼ inch thin
½ medium yellow onion, thinly sliced then roughly chopped
4 ounces cremini mushrooms, thinly sliced
2 cups Mega Veggie sauce, or Quick and Easy Marinara Sauce (recipe below, see notes above)
1 recipe gluten-free pizza dough (recipe here)or whole wheat pizza dough (recipe below)
fresh basil pesto (recipe below)
½ teaspoon garlic powder
kosher salt or sea salt
Prepare your chosen pizza dough and sauce recipes and set aside.
Preheat oven to 400˚F.
Put a couple layers of paper towels on a large baking sheet. Scatter a couple pinches of salt on top of the paper towels. Arrange the eggplant slices in a single layer on top of the salt. Sprinkle the tops of the eggplant with a couple pinches more salt, and place another layer of paper towels on top of the eggplant. Set aside for 20-30 minutes so that the eggplant releases some moisture (this will help it cook better and get more tender).
Remove the eggplant from the paper towels and brush or spray with a couple tablespoons olive oil, making sure that both sides of each slice are coated with oil. Roast in the oven for 15 minutes, or until the undersides are golden. Flip and roast for 10-15 minutes longer, or until both sides are golden brown but the eggplant is tender. Remove eggplant from the pan and wrap in foil--it will steam itself and become more tender.
Toss the cherry tomatoes in a tablespoon of olive oil and season with salt on a rimmed baking sheet. Roast in the oven for about 20 minutes, or until tomatoes are slightly shriveled, tender and spotted golden. Set aside.
While the eggplant and cherry tomatoes are roasting, make the pesto.
Increase the oven to 500˚ F and heat a pizza stone in the lower third of the oven for 30 minutes.
When all your pizza components are ready, roll (or stretch) out your dough on a piece of parchment paper. ( If making the gluten-free crust, scatter brown rice flour over the top before rolling it out with a rolling pin or pressing it out with your fingers. Also note that the gluten-free pizza crust needs to be par-baked before adding toppings).
Brush the outside "crust" edges of with a thin layer of olive oil and sprinkle with garlic powder and salt.
Spread the sauce over the pizza (as much as you would like), and arrange the roasted eggplant slices on top. Scatter the onions, mushrooms and roasted cherry tomatoes on top. Sprinkle a little salt on top. Slide the parchment paper that the pizza is on onto the heated pizza stone. Bake for 18-25 minutes, or until the edges of the crust start to look golden and mushrooms appear cooked. When pizza is cooked, dot the top with teaspoonfuls of pesto (I like to add after cooking the pizza so that it retains its bright green color and fresh herby taste).
Slice and serve hot.