Vegan Pumpkin Walnut Muffins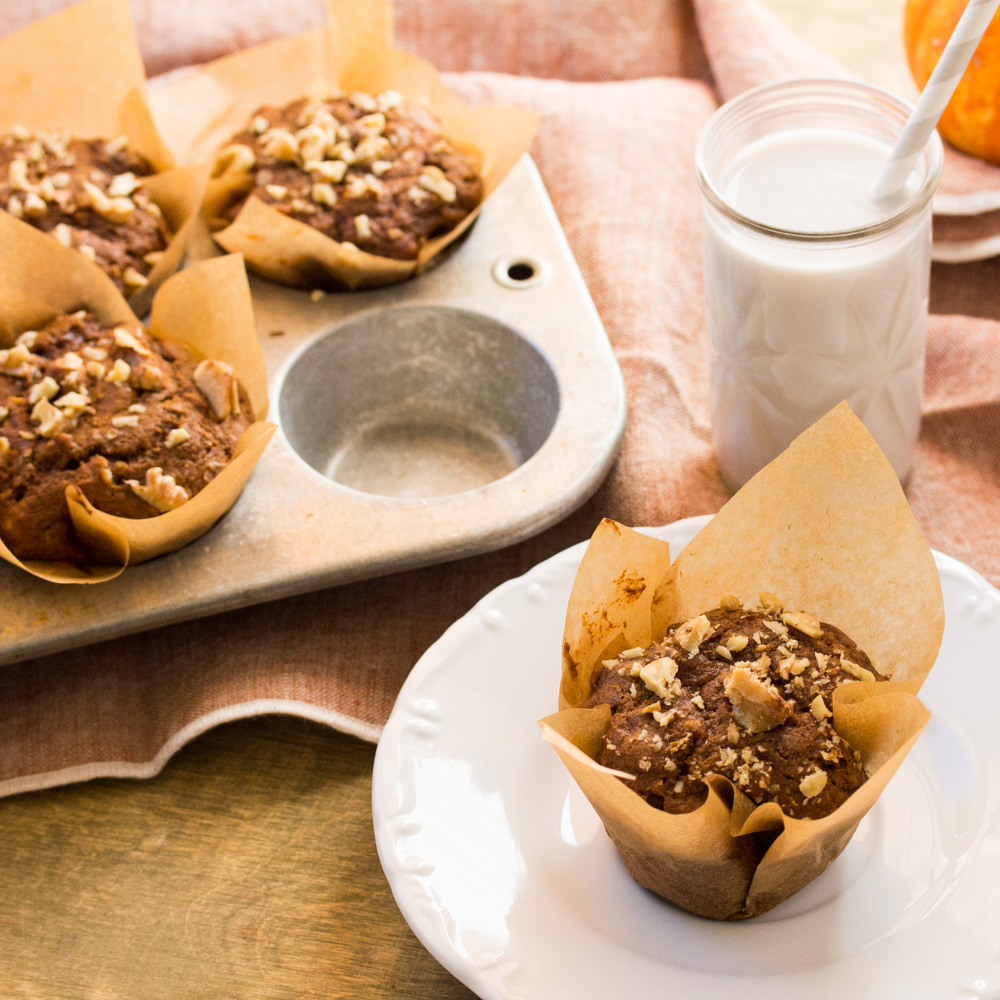 2 tablespoons ground flax
⅓ cup plus 5 tablespoons water, divided
2 cup plus 2 tablespoons whole wheat pastry flour
¾ teaspoon baking soda
½ teaspoon ground cinnamon
¼ teaspoon allspice
¼ teaspoon ground cloves
¼ teaspoon ground ginger
¼ teaspoon salt
1 cup canned pumpkin puree
1 cup plus 1 tablespoon coconut sugar
3 tablespoons maple syrup
⅓ cup plus 5 tablespoons water, divided
¼ cup unsweetened almond milk or other plant based milk
¼ cup olive oil
1 teaspoon vanilla extract
1 cup chopped walnuts, divided
Preheat the oven to 350˚F and place an oven rack in the middle position. Place muffin cups in a muffin tin or lightly oil the tins.
In a small bowl, mix the ground flax with 5 tablespoons hot water and allow to sit and thicken for about 5 minutes to make a "flax egg".
As an optional step, lightly toast the walnuts until fragrant by cooking them in a large frying pan over medium heat, stirring often and watching closely to prevent burning.
In a large bowl, whisk together the flour, baking soda, cinnamon, allspice, cloves, ginger and salt until throughly incorporated. In a liquid measuring cup or bowl, stir together the pumpkin puree, coconut sugar, maple syrup, ⅓ cup water, almond milk, olive oil and vanilla until combined. .
Add the pumpkin mixture to the bowl with the dry ingredients, and stir until smoothly combined. Add ¾ cup of the walnuts and stir until evenly distributed. Scoop the batter into the muffin tins by the ⅓ cupful. Sprinkle the remaining ¼ cup walnuts on top of the muffins.
Bake for about 22-25 minutes, until the top crust is dark golden and firm, and a toothpick just barely comes out clean. Allow to cool for 20 minutes before eating (or not!).
Recipe by
Spoon With Me
at https://spoonwithme.com/vegan-pumpkin-walnut-muffins/