African Peanut Soup with Vegan Chive Sour Cream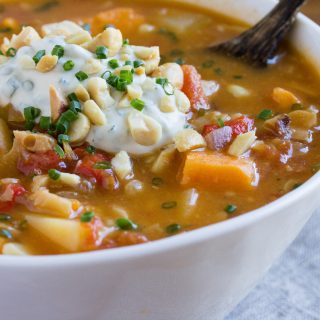 Author:
Spoon With Me, adapted from Cooking Light
1 cup cashew sour cream (recipe below)
1 tablespoon olive oil
1 very large yellow onion, sliced thin and roughly chopped
2 medium red bell peppers, diced
8 cloves garlic, minced
1 cup roasted unsalted peanuts, minced
1 teaspoon ground cumin
½ teaspoon ground ginger
2 teaspoons coriander
1 teaspoon black pepper, to taste
½ teaspoon crushed red pepper (more or less to taste)
1 28-ounce can diced fire roasted tomatoes (regular diced tomatoes work too)
6 cups vegetable or chicken broth
1½ pounds yukon gold potatoes, cut into ½ inch cubes
1½ pounds sweet potatoes, peeled and cut into ½ inch cubes
1 teaspoon salt, more to taste
Make the cashew sour cream and stir in the chives. Cover and refrigerate for 2 hours or more.
Heat the oil in a large pot or dutch oven over medium high heat. Add the onion and bell pepper and sauté for 4-5 minutes until tender but not browned. Add the garlic and sauté for a minute or two.
Stir in the peanuts, cumin, ginger, coriander, black pepper crushed red pepper and salt.
Add the tomatoes, broth and potatoes. Bring to a boil, then reduce heat to a simmer and cover. Cook for about an hour and 10 minutes, or until potatoes are tender. Season with salt to taste. Serve hot, topped with the chive sour cream.
Slow cooker variation: Sauté ingredients as described above, and add everything up to the spices. Transfer to a slow cooker and stir in the remaining ingredients. Cook on low for 6-8 hours.
Recipe by
Spoon With Me
at https://spoonwithme.com/african-peanut-soup-with-vegan-chive-sour-cream/